Fish Database - Species Details
French Angelfish
Pomacanthus paru
1. Adult. Side view, typical appearance.

Photographer: Bart Hazes

2. Adult. Side/front view, typical appearance.

Photographer: Bart Hazes

3. Late intermediate. Side view, typical appearance.

Photographer: Bart Hazes

4. Early intermediate. Side view, typical appearance.

Photographer: Bart Hazes

5. Juvenile. Side view, typical appearance.

Photographer: Bart Hazes

6. Juvenile. Front view, typical appearance.

Photographer: Bart Hazes

7. Juvenile. Cleaning an initial yellowtail (or redtail) parrotfish.

Photographer: Bart Hazes
Description
Adult French angelfish have a characteristic shape and coloration with very little variation between individuals (see photos 1 and 2). There is no apparent sexual dimorphism in size or coloration. Juveniles look entirely different (photos 5-7) possibly to avoid territorial aggression by adult French angelfish. There is a continuous transition from the juvenile to the adult pattern (photos 3 and 4).
Length
30cm
Distribution
Caribbean, West and East Atlantic between 30
Habitat
Coral rich reefs. Adults typically defend large territories on sloping flat reefs at 10-25m depth. Less common on steep slopes and walls. Juveniles, in shallower water (3-15m) where they occupy tiny (1-foot radius) territories near a hole or other hiding spot.
Behaviour
Adult pairs swim slowly and gracefully 1 to 2 foot above the substrate. Not shy, often curious, and never seek shelter. Frequently come close to divers. Solitary juveniles up to 7 cm act as cleaner fish. They attract customers by busily fluttering around in their tiny territories.
Food Preference
Mostly sponges with some algae, bryozoans, gorgonians, tunicates and seagrasses.
Spawning Behaviour
The French angelfish is believed to be monogamous with pairs mating for life. Spawning occurs at or just after sunset without obvious courtship or color changes. The pair rises along an arc, bellies pointing towards eachother, until 2-3 meter above the reef. At the top of the ascend the pair breaks apart, apparently releasing their gametes, and return to the reef. Mating can occur between a single pair, but several pairs have also been observed to spawn together. However, the pairs remained their distance and no promiscuous paring was observed.
Depth
Look-alikes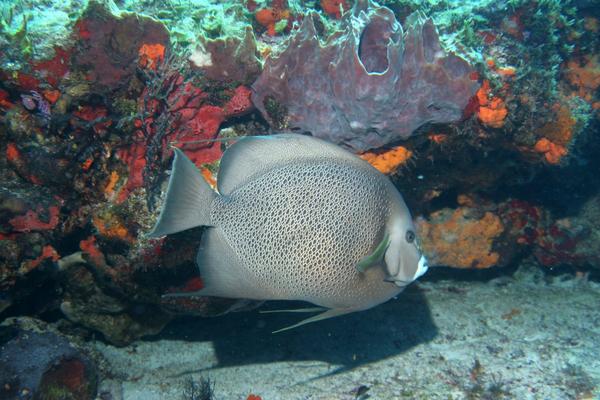 1. Adult gray angelfish.
Photographer: Bart Hazes
The French angelfish resembles in shape, ground color, and behavior, its close relative the gray angelfish (P. arcuatus). The adults are rather easy to tell apart by the characteristic yellow scale edges and rounded tail of the French angelfish. The juveniles are more similar but differ in their tail (French: rounded with bright yellow margin. Gray: straight with translucent or dull yellow margin) and snout (French: yellow stripe over nape ends above the upper lip. Gray: yellow stripe continues over the lips).
Links
Reef fish behavior. Deloach N and Humann P. p142-145
Page created by Bart Hazes